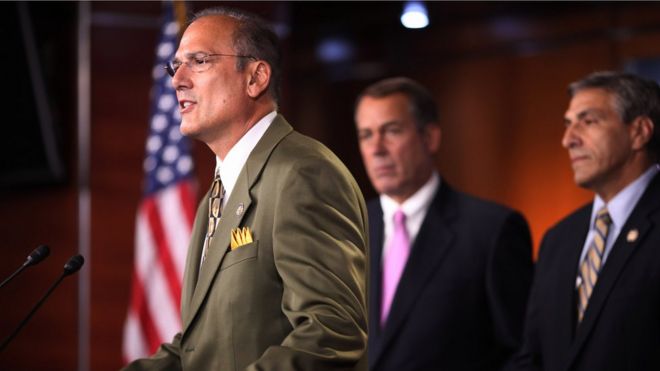 US President Donald Trump's nominee for drug czar is accused of helping relax enforcement on pharmaceutical firms blamed for fuelling the opioid crisis.
Pennsylvania congressman Tom Marino pushed a bill that reportedly stripped a government agency of the ability to freeze suspicious painkiller shipments.
His co-sponsor on the act was Marsha Blackburn of Tennessee. Both their states have been ravaged by opioids.
Experts estimate the drugs could kill 500,000 Americans in the next decade.
Deadly addiction to opioids – a class of drug covering everything from legal painkillers to heroin – has been described as America's biggest public health crisis since the spread of HIV/AIDS in the 1980s.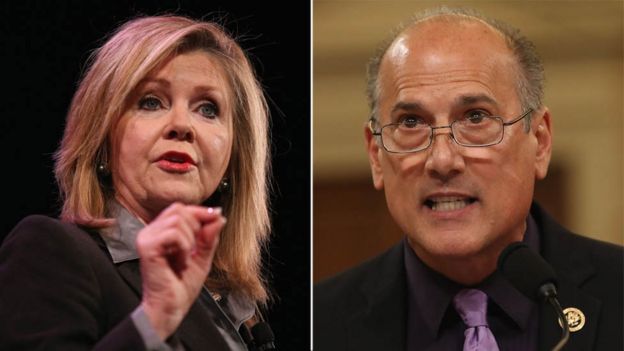 President Trump was pressed on Monday about the allegations surrounding his drug czar nominee that were detailed in an expose by the Washington Post and CBS News' 60 Minutes programme.
During a press conference at the White House, Mr Trump told reporters he took the journalistic investigation "very seriously".
"We're gonna be looking into Tom [Marino]," he told reporters from the Rose Garden.
"He's a great guy. I did see the report. We're gonna look into the report."
Mr Trump also said he would formally declare a national opioid emergency next week, as he pledged to do more than two months ago.
Mr Marino and Ms Blackburn, both Republicans, helped force out an official at the Drug Enforcement Administration (DEA) who was taking on the drug firms, report the Post and 60 Minutes.
According to the investigation, they also introduced and lobbied for an "industry-friendly" bill called the Ensuring Patient Access and Effective Drug Enforcement Act.
A DEA whistleblower said the legislation made it harder for the agency to prevent distributors from shipping pills to rogue pharmacies and corrupt doctors around the US.
The so-called suspension orders – which the DEA slaps on suspicious shipments – have not been issued for at least two years, according to the report.
---
A murky mess
Analysis by Anthony Zurcher, BBC North America reporter
Money makes the (Washington) world go around, and in 2016 a lot of money was behind a push by drug companies to weaken the DEA's ability to limit the illegal distribution of painkillers in the US.
Despite objections of those on the frontlines of the drug-abuse epidemic, big money carried the day. It often does – particularly when it works in the shadows, behind banners like "deregulation" or "business-friendly" law-making.
The drug legislation was passed by Congress without controversy and signed by then-President Barack Obama with hardly a shrug.
Now, however, the implications of the policy shift are coming into view, causing growing embarrassment for the involved politicians and yet another headache for a Trump administration that has been challenged to turn presidential rhetoric on the opioid crises into action.
History is full of seemingly uncontroversial laws that take on greater significance after the fact. The bipartisan financial reforms of 1999 set the stage for the Great Recession of 2008. Thrift industry deregulation in the early 1980s led to the savings and loan crash later that decade.
Washington policymaking is often a murky mess. When the light comes on, however, political blame – and pain – can arrive with devastating speed.
---
Ms Blackburn reportedly received $120,000 (£90,000) in campaign contributions from pharmaceutical companies.
After initially providing no comment, her spokesperson gave a statement to USA Today on Monday.
It said if there "are any unintended consequences from this bipartisan legislation… they should be addressed immediately".
Mr Marino has not responded to requests for comment.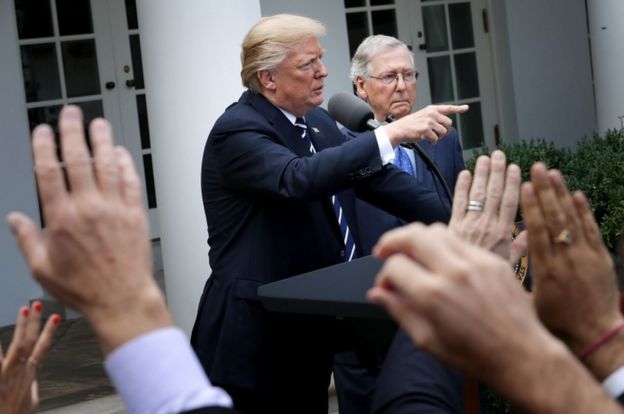 His staff called the US Capitol Police when reporters tried to interview him at his office last month about the investigation, reported the Post and 60 Minutes.
Senator Joe Manchin, a West Virginia Democrat, said on Monday he was "horrified" by the findings and called for last month's nomination of Mr Marino as drug czar to be rescinded.
He added: "We need someone who believes we must protect our people, not the pharmaceutical industry."
Senator Claire McCaskill, a Democrat of Missouri, said she would introduce legislation to repeal Mr Marino and Ms Blackburn's bill.
Jim Geldhof, who retired from the DEA this year after more than four decades, told CBS the original legislation "was about money, and it's as simple as that".
Ms Blackburn is now facing the political fallout as she runs for a Senate seat in her home state.
One of her Democratic rivals, James Mackler, said in a statement: "That Congresswoman Blackburn would champion legislation like this while Tennesseans face an opioid epidemic is all one needs to know about her priorities."
The DEA, which does not dispute the report's findings, said it would continue to "use all the tools at our disposal to combat this epidemic".
Source:-BBC