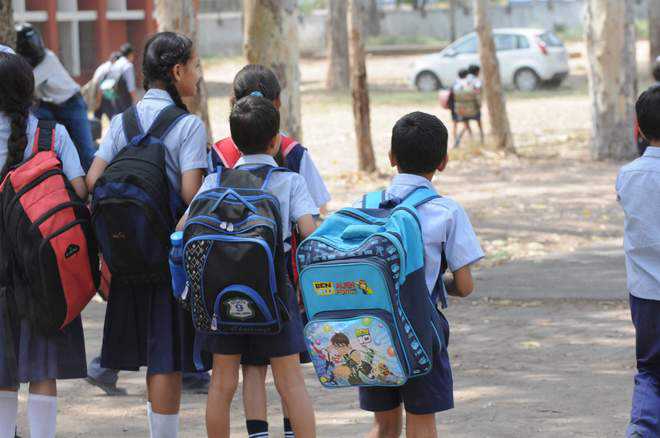 Nitish Sharma
Tribune News Service
Ambala, April 8
The Directorate of School Education, Haryana, has directed the District Education Officers (DEOs) across the state to submit a report on private schools if they are found involved in forcing the students to buy books and uniform from a particular shop or are found selling them on the school premises.
The letter states: "It has been observed that the a large number of private schools sell books, uniform and stationery at makeshift shops on the premises or recommend the parents to purchase these items from a particular shop or publisher — violating the Haryana School Education Rules, 2003."
The DEOs have been asked to conduct an inquiry if schools are found involved in any such activity, submit a report with facts and remarks before the Directorate within a week so that action could be taken against such schools.
However, questions are being raised on the timing of the letter issued by the Directorate as a majority of the students have already purchased books and uniform.
An official of the Education Department said the schools had been taking advantage of the contradictory guidelines, especially regarding the NCERT books. Instead of sending letters, there is a need to amend the Haryana School Education Rules. Similarly, guidelines of the Fee and Fund Regulatory Committee should be amended.
Sudhir Kalra, Block Education Officer, Ambala City, said: "Three complaints regarding the annual charges have been received so far, besides complaints by parents being forced to buy books of a particular publisher instead of the NCERT. A letter has been received from the DEO and an action will be taken according to the directions."
District Education Officer Uma Sharma said: "There are clear directions from the Directorate that schools can neither sell uniforms or books on the premises nor force the parents to buy these from a particular shop. A vigil was already being kept on such activities of private schools. Random checks will be conducted through the Block Education Officers and action will be taken on complaints also. The action will include withdrawing affiliation and recognition of the schools."
Govt schools yet to get textbooks 
Chandigarh: Despite the government assurance, textbooks for the new academic session of Class I to VIII are yet to reach schools for disbursal. So far, only students of Class I to IV have got books but for Class V and VII the books in Gurugram, Jhajjar, Kurukshetra, Mahendragarh, Rewari, Rohtak, Sirsa and Yamunanagar district are not yet fully distributed. No books have been given to Class VI students whereas Class VIII books have been fully disbursed. PK Das, Additional Chief Secretary School Education, said, "Books will be distributed between April 7 and 15". TNS
["source=tribuneindia"]