Crime-writer alias of Harry Potter author among the 18 novelists longlisted for Theakstons Old Peculier crime novel of the year prize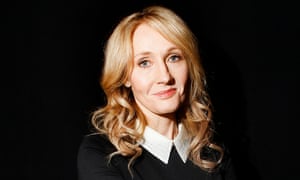 A package containing a severed leg has proved to be JK Rowling's passport on to the Theakstons longlist, as her novelist alter ego Robert Galbraith picks up a first nomination for the award.
Galbraith's novel Career of Evil, in which the hero's assistant receives a gruesome delivery, is up against some of the biggest names in crime writing for the Theakstons Old Peculier crime novel of the year award. Former winners Val McDermid and Mark Billingham are also in contention this year, as well as bestseller Ann Cleeves.
The 18-strong longlist for the £3,000 prize also includes a handful of well-received first novels. Renee Knight's Disclaimer, in which a woman finds a novel that reveals her darkest secrets, was chosen as a contender, as was Lisa McInerney's The Glorious Heresies. Longlisted for the Bailey's women's prize for fiction last week, the latter sees the Irish author tell the story of a Cork woman who accidentally kills someone with a religious icon.
Ruth Ware makes the cut for her debut In a Dark Dark Wood, about a hen party that goes very wrong, while Clare Mackintosh's first novel, I Let You Go, which opens with a five-year-old killed by a hit-and-run driver, is also longlisted.
Harrogate International Festivals literary manager Gemma Rowland said the list demonstrates how "even the giants of the genre are constantly kept on their toes, with debut voices as serious contenders".
Rowland pointed out that last year's winner was Sarah Hilary's debut, Someone Else's Skin. "It really shows whoever wins this year will know they've been pitted against the biggest talent at work today," she said.
The longlist was chosen by an academy of crime authors, publishing experts and reviewers. The shortlist will be announced on 31 May, with the winner, decided by a combination of a panel of judges (80%) and a public vote (20%), to be revealed on 21 July at the 14th Theakstons Old Peculier crime writing festival in Harrogate.
The longlist in full
Time of Death, Mark Billingham (Little Brown)
Rain Dogs, Adrian McKinty (Serpent's Tail)
Career of Evil, Robert Galbraith (Sphere)
Black Eyed Susans, Julia Heaberlin (Michael Joseph)
Disclaimer, Renée Knight (Black Swan)
I Let You Go, Clare Mackintosh (Sphere)
The Moth Catcher, Ann Cleeves (Pan)
Tell No Tales, Eva Dolan (Harvill Secker)
The Ghost Fields, Elly Griffiths (Quercus)
The Missing and the Dead, Stuart MacBride (Harper Fiction)
Every Night I Dream of Hell, Malcolm Mackay (Mantle)
Splinter the Silence, Val McDermid (Little, Brown)
The Glorious Heresies, Lisa McInerney (John Murray Publishers)
The Nightmare Place, Steve Mosby (Orion Fiction)
The Final Silence, Stuart Neville (Harvill Secker)
In a Dark, Dark Wood, Ruth Ware (Harvill Secker)
Death is a Welcome Guest, Louise Welsh (John Murray Publishers)
Stasi Child, David Young (Twenty7)