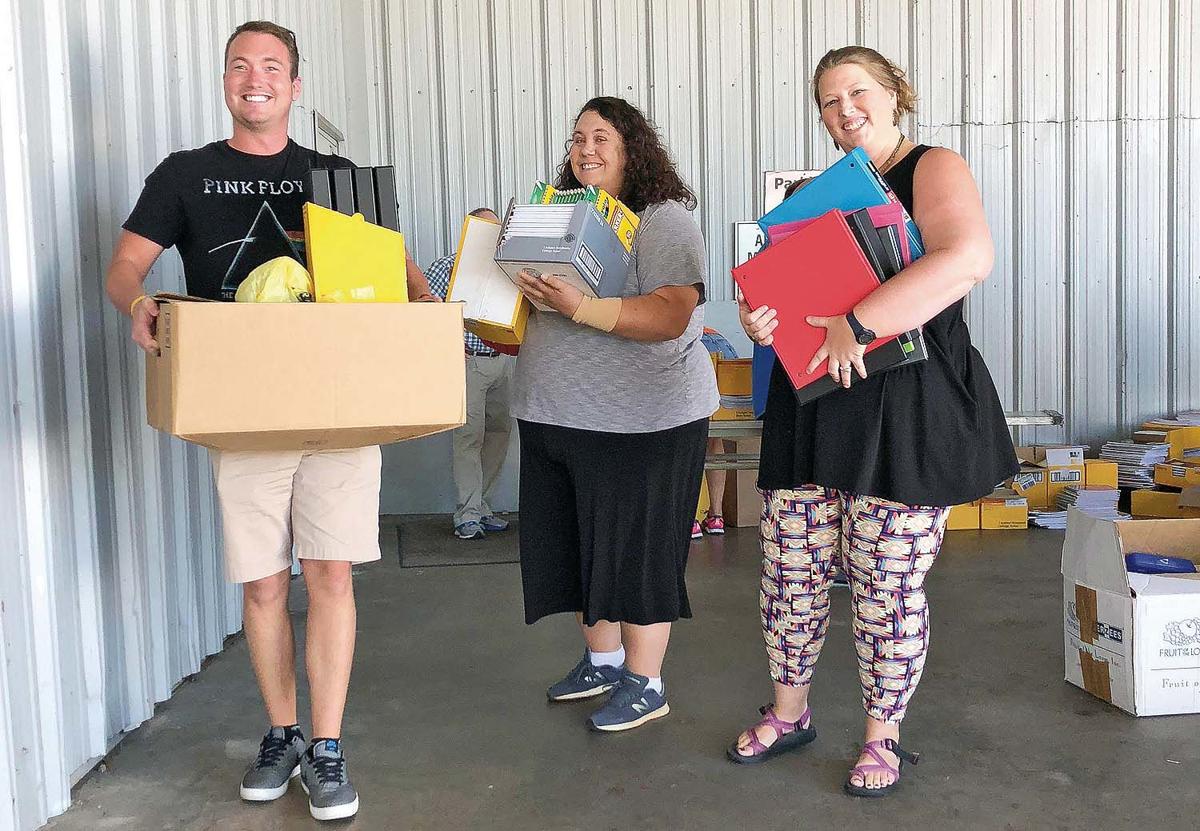 SCHOOL SUPPLIES donated by Lowe's Companies Inc. employees were available on Thursday for Wilkes school personnel to look through and take to individual schools. Grant Tharpe, Rita Ray, and Karrie Combs appear happy with their selections for their school, East Wilkes Middle.
Revised K-12 English/language arts and K-8 math standards, expanded Wilkes Virtual Academy course offerings, and new middle school math programs are among instructional changes in Wilkes County Schools in the new academic year.
Wilkes Early College High School classes began Aug. 13, while classes in all other Wilkes public schools start Monday.
The revised K-8 math and K-12 English/language arts (ELA) standards are being implemented in all public schools statewide to replace the Common Core Standards, used since 2012. The new standards are incorporated in the N.C. Standard Course of Study, approved by the N.C. Board of Education in 2017.
Standards describe what students should know by the end of each grade, but local school districts decide how they are taught.
"We believe these (revised) standards are more developmentally appropriate" than the Common Core Standards, said Wilkes Associate School Superintendent Anna Lankford.
Although somewhat similar to the Common Core Standards, she added, the revised standards "clarify what teachers need to teach and how deep they need to go with the material."
According to media reports, the revised math standards are considered easier for teachers and parents to understand. As with Common Core, the new standards go beyond memorization by emphasizing learning math concepts.
The Common Core standards were criticized for being national standards adopted without consulting North Carolina teachers. The N.C. Department of Public Instruction has emphasized the involvement of parents, teachers, school district leaders and university specialists in North Carolina in development of the revised standards.
Students will be tested this year on material covered in the revised K-8 math standards, but testing related to the revised K-12 ELA standards will be delayed until 2019-20.
Middle school math
Lankford said Illustrative Mathematics, a new problem-based curriculum that emphasizes practical applications of math, will be used in grades six to eight this year.
"It sparks discussion, perseverance and enjoyment of mathematics. Students learn math by doing math, solving problems in mathematical and real-world contexts and constructing arguments using precise language."
She said Illustrative Mathematics is the first core math program in the middle schools in at least six years. "We hope this will build more consistency in high expectations for math instruction." Materials for the new curriculum, optional for school districts, are provided for free by Open Education Resources.
Lankford said Advanced Math will be offered instead of Math 1 in the eighth grade at all Wilkes middle schools starting this school year. She said Advanced Math essentially is the old Algebra I curriculum and explained that it should provide students a stronger math foundation in higher level high school math courses.
Illustrative Mathematics and Advanced Math both align with the revised math standards, said Lankford.
Wilkes Virtual Academy
The Wilkes County Schools Virtual Academy, launched last fall with Spanish II Honors as the initial pilot course, has an expanded selection of online course offerings this year.
Lankford said all Wilkes high school juniors and seniors can register for free in the following online courses this year: Spanish III Honors, Spanish IV Honors, Advanced Placement Language, Advanced Placement Literature, American History I Honors, American History II Honors, English III Honors, English IV Honors, and American History Founding Principles, Civics and Economic Honors. She said these courses are offered online based on the premise that students in honors courses are independent learners.
Existing Wilkes teachers are contracted to build and teach each course, with compensation based on enrollment and successful completion of each course. Teaching sessions were filmed this summer and reviewed by central office administrators. An online learning management system called Canvas will be used to deliver the sessions.
The courses are available during regular classroom hours, plus later in the day as fifth periods classes while students are at home. Students in the courses can contact their teachers via email.
Online courses are also available through Wilkes Community College for Wilkes high school students in the Career and College Promise program. They're also available through the N.C. Virtual Public School, with a 150-course curriculum.
Assessing learning
NC Check-In tests will be expanded to more grade levels in the coming school year.
These assessments will be given three times per year in math classes in grades three to eight and in reading/ELA classes in grades four to eight.
Last year, NC Check-Ins were only given in fifth, sixth and seventh grade English/ELA and sixth grade math classes. In 2016-17, only sixth grade English/ELA classes had them.
Lankford said NC Check-Ins are shorter than End of Grade (EOG) exams and provide teachers more specific and immediate data to help determine where students need more help.
School districts currently aren't required to give NC Check-Ins at any grade level, but they align with the revised standards and there is speculation that they could replace EOGs.
New framework
Lankford said 2018-19 will be the second year of implementing a new teaching and learning framework for what quality instruction should be in the Wilkes schools.
She said building relationships with students and parents and planning aspects of lessons were emphasized when the new framework was introduced last year. This year's main emphasis is on teaching strategies and assessments.
The focus on teaching strategies includes using evidence (data)—based best practices to determine if lessons meet the revised standards. It also includes deciding whether to teach in small or large groups and whether to use technology, media or other tools. It also means adapting practices to better meet student needs.
Lankford said formal and informal assessments help teachers know how students learn, their stages in the learning process and how to modify teaching methods and activities to improve learning.
Lankford said administrators and instructional specialists received training in July, and staff training was Aug. 17.
Latin System for Honor Graduates
The Latin System of Honors, a new system of honoring graduating seniors with high grade point averages (GPAs), will be implemented in 2018-19.
Under the Latin System of Honors:
• seniors with a 3.5 to 3.99 weighted GPA graduate "cum laude;"
• seniors with a 4 to 4.249 weighted GPA graduate "magna cum laude;"
• seniors with a 4.25 or higher GPA graduate "summa cum laude."
Lankford said the Latin System of Honors aligns with universities and colleges in how they recognize honors so it should help students as they apply for college admission, scholarships or jobs.
Calculations used to determine the designations are the same at all five high schools, as they are now with honor graduates.
Honors, advanced placement and Career and College Prep courses are still weighted heavier in GPAs than standard courses. The number of students recognized with cum laude, magna cum laude or summa cum laude will be the same as the number recognized as honor graduates, she said.
["Source-journalpatriot"]